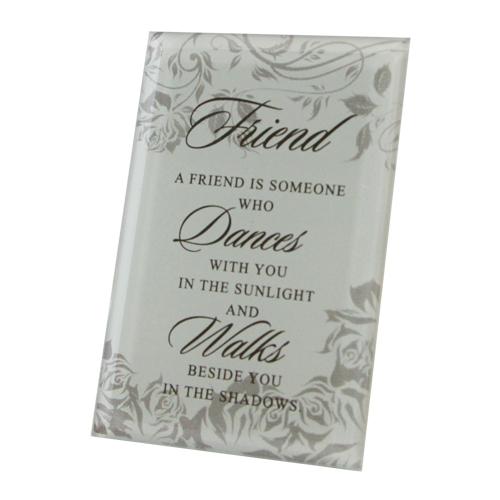 Best Friend Plaque
• Size: 4.75" H x 3.125" W • Inscription: A friend is someone who dances with you in the sunlight and walks beside you in the shadows.
or
• Inscription: A friend knows the song in your heart and can sing it back when you have forgotten the words.
Do you have a best friend or a group of friends who have a positive influence in your life? It can be nice to give them a reminder of how much they mean to you and the difference they make in your life. That is why we offer a fantastic African American friend plaque with encouraging inscription and delicate detailing. We want to make it easy for you to share your positive attitude and give thanks for the friends you have in your life.
Our friend plaque reminds your friends you're there for each other, in good times AND bad. It is sure to be displayed where it can be seen every day and where it will remind your friends of how special they are to you. Think about all of your friends who would love a permanent reminder of your friendship, and place your order for this thoughtful gift for an African-American friend today.