Inspirational Grandma Plaque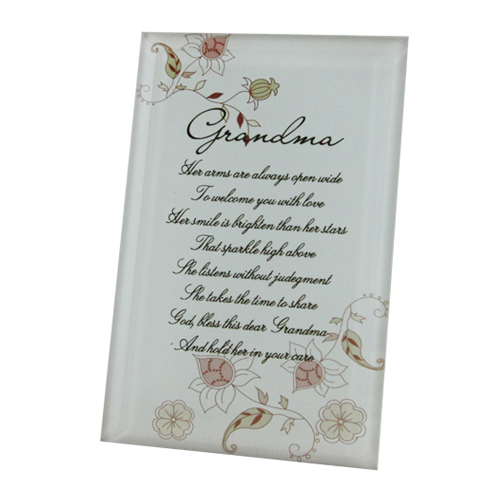 Inspirational Grandma Plaque
• Size: 4.75" H x 3.125" W • Inscription: Her arms are always open wide, to welcome you with love; Her smile is brighter than the stars, that sparkle high above; She listens without judgment, she takes the time to share; God, bless this dear
African American Grandma Plaque
A grandmother is a special gift from God. Her experience, patience and unconditional love make her someone you can turn to when you need a hand, encouragement or guidance. We all want our grandmas to know how important they are and that they fill a need we have in our lives to understand our place in the world and where we come from.
At AAE we offer this beautiful plaque for an African-American grandma that includes a touching inscription and gorgeous detailing. This high-quality plaque will look perfect in your grandma's home and will earn a place of honor on display. This also makes a touching gift for other black grandmas you know who don't get to see their grandchildren often and would appreciate a reminder of their love.
The next time you visit your grandma, surprise her with our African American grandma plaque and watch a smile spread across her face. It's the perfect gift for your grandma.
• Inscription: Her arms are always open wide, to welcome you with love; Her smile is brighter than the stars, that sparkle high above; She listens without judgment, she takes the time to share; God, bless this dear Grandma, and hold her in your care.